Marketing Your Internet Business
Cultivate Client Relationships
Keep your web visitors engaged with easy ways to get answers to their questions about your products and services, how to contact you, or keep in touch about updates, new items and trends.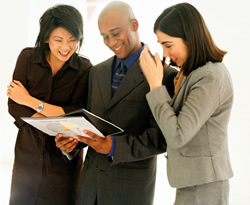 Stay in Touch with eMail Promotions and Newsletters
Build an email list with an online registration form for newsletters, coupons, sales promotions. If you're just getting started, have a sign up form for customers who visit your brick and mortar store. Targeted distribution of newsletters, mailers, and post cards lead customers into your store or your web site to hear your full sales message.
We can create email blast promotions or newsletters branded to your site for you or you can send out sales fliers and newsletters through professional email promotion companies like Constant Contact (which offers a free 60-day trial) using their predesigned templates. Be sure to read the CAN-SPAM Federal Anti-Spam Laws.
Make it easy for customers to find you
If you have a brick and mortar store, help your customers find you with Google Maps on your standard and mobile web sites. With a click of a button they can get directions. Include a photo of the store and surrounding location so they'll know what they're looking for.
Make it easy for customers to contact you
Contact forms and telephone numbers are a must - but consider utilizing "live chat" to answer customer's questions and concerns in real time.
A 2010 study on the effectiveness of "Live Chat" revealed that those who've had an online chat engagement with an internet retailer are:
Less likely to be aged 21-20
More likely to be college educated
More likely to have a household income greater than $60k
Equally likely to be men as women
If this describes your target market, then "Live Chat" may be right for you.
The report went on to say that 56% of the people sampled said that if a website offered live chat, that fact alone would positively influence their decision to make a purchase.
We recommend Bold Chat software which offers a variety of features and plans - PLUS they offer a FREE TRIAL.
Capitalize on the Mobile Web
A small mobile website with your address, a clickable phone number that will dial the user's mobile phone, and a Google Map can make it easy for potential customers to contact you.
Use Social Media sites to promote your product
Marketing your business on any social media platform (like YouTube, Facebook, Twitter) is not an arduous task, as many people think it is; it is about having a presence, building credibility, and educating your potential customers.
Our Social Media experts can set up your Facebook, Twitter or other Social Media page for you to update and maintain, or will update your pages for you.
Promote your brand image with a specially created Facebook landing page designed to match your website.